Housing Etoile Annemasse
Ambilly is at the centre of the Etoile development zone, which links Annemasse and Geneva. Plot C8, developed by architects Atelier Martel, Cathrin Trebeljahr, Bamaa and Hardel Le Bihan, displays a coherence that was established during collaborative workshops with the urban designers D&A and the client. The decision to use the same materials throughout – sandblasted concrete and Douglas fir – contributes to the overall harmony. For the housing units designed in collaboration with Bamaa (lots G1 and G2), we also worked on connecting the two buildings by means of shared stringcourses and identical floor heights. The principal height of the block, ten floors over ground level, responds to the required flexibility with a concrete grid system into which timber panels are inserted that integrate single- or double-leaf windows. This organization makes it possible to rearrange the windows in the event of change of use.
The small apartment buildings on lots E and F ensure the transition with the surrounding suburban fabric. Three-storey timber-framed buildings with facades in pre-aged Douglas fir on a sandblasted concrete base, they comprise a majority of two-level units, naturally lit circulation cores, and living rooms opening onto outdoor space – garden or terrace.
Location
ZAC Etoile Annemasse-Genève, Ambilly (74)
Programme
116 housing units, ground-floor retail units, a two-storey underground car park (HLB: 54 units of which 27 have a timber structure)
Client
Bouygues Immobilier
Team
Hardel Le Bihan Architectes, (associate architects), Marco Rossi Paysage (landscaping), Plantier (concrete structure) Arborescence (timber structure), GC2E (services), BET Philippe (quantity surveyor), Alp VRD (infrastructure), Orchidée (sustainability)
Surface area
9 000 m² GIA housing, 8 450 NIA, 900 m² GIA retail
Cost
16,3 M€ (estimation at sketch design/ planning application)
Calendar
En études, completion in 2024
Materials
concrete (structure and sandblasted finish, composed of local Salève aggregates), wood (structure, external joinery, cladding), aluminium (external joinery)
Certification
E2C1, label BiodiverCity, NF HQE, RT 2012
Project manager(s)
Cyril Mabime
Architects
Loïs Valherie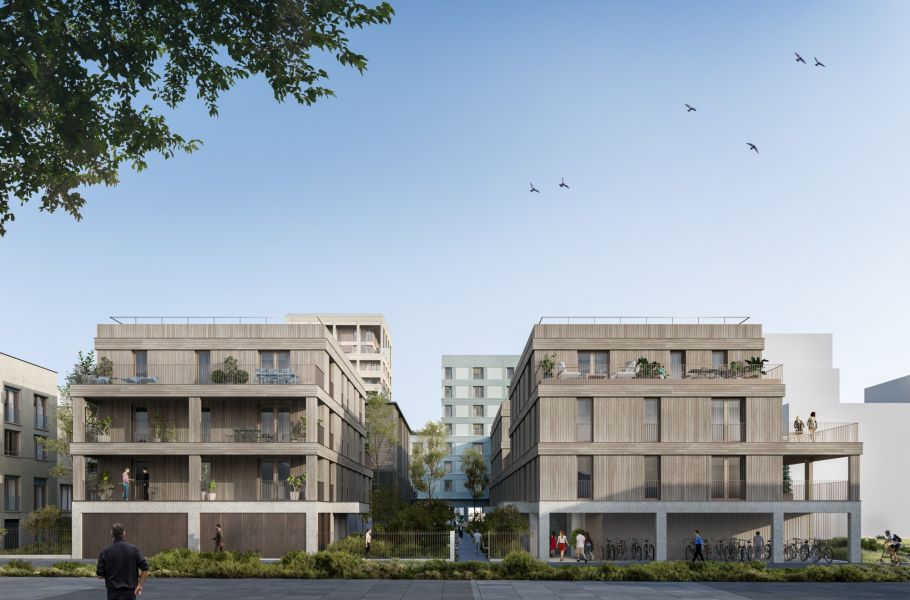 Related projects