Housing, Massy
Opposite Massy TGV station, two buildings of student residences and 177 housing units are being built on the site of the demolished Safran block. The organisation of the team into co-conception workshops, the dialogue and the clear attentiveness between the partners has resulted in a joy of conception that is palpable in the urban and architectural harmony of the block.
The sculpted massing creates generous spaces: duplexes, double heights, terraces and loggias clad in timber. All the apartments have views over a canopy of gardens on the ground and higher up.
The two residences pool their functions, with shared circulation and services on the ground floor (breakfast room, cafeteria, laundry, sports room, caretaker's apartment) and at higher level (large shared terrace on the 6th floor). The halls are full-depth spaces, transparent and very high, working with the landscaping concept of permeability at the centre of the block, where access to the many bicycle storage spaces is also found.
Location
Avenue Carnot, Massy 91
Programme
177 first-time buyer housing units and 255 student housing units (HLB 52 apartments, 156 student rooms)
Client
Nexity, Keyden
Team
Hardel Le Bihan Architecte design team leader and coordinator (Adriana Cavagna project leader), MG AU and NRAU associated architects and urban designers, Atelier Roberta (landscape design), BA Structures (structural engineers), Kerexpert (services/ energy performance), Urbacité aménagements (infrastructure), CdB Acoustique (acoustics), BTP Consultants (regulatory compliance consultants), MOX (site architects, site management), Elite (site programming)
Surface area
19,700 m² gross floor area (Hardel Le Bihan 4 300 m² students + 3 750 m² first-time buyer)
Cost
28 M€ (overall)
Calendar
Completed in 2021
Materials
impregnated concrete, timber–aluminium windows, aluminium frames, smoothed render, timber
Certification
French housing regulations
Project manager(s)
Adriana Cavagna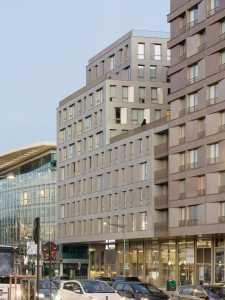 Related projects